Services and Pricing
Standard working hours are 9.00am – 5.30pm
Dog Walking
Dogs can be walked either in a group or individually. Your dog would need to be up to date with vaccinations and not display signs of aggression towards other dogs. Dogs will always be walked on a lead unless off lead is preferred and agreed at time of consultation.
Puppies can be taken on short walks on the lead 2 weeks after their 2nd vaccination. Group walking is not recommended for puppies under 20 weeks.
I will endeavour to walk your dog(s) at the requested time, however there may be occasions when I may have to make slight alterations of timing in order to work into my working day.
I will ask you where you would prefer me to walk your dog so as to keep them in their same routine with their familiar smells. I will also ask if your dog can be walked with other dogs.
Prior to the 20 week period I can visit your puppy to let it out and instigate play times and reinforce any training until it reaches 20 weeks.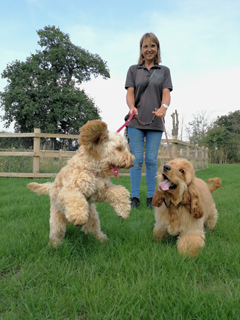 Puppy or Elderly Dog Package
I may be able to offer a Puppy or Elderly Dog Package where I can call in twice a day during mid- morning and mid-afternoon for 30 mins. This breaks up the day and your puppy/elderly dog is being regularly checked on, I can tidy away any wet newspaper or training pads on the floor and let your puppy/elderly dog out in the garden and play. This of course can be a temporary service until your puppy is ready to be left for longer periods or is house trained.
| Service | Price |
| --- | --- |
| 30 min walk (includes puppy and elderly dog package) | £10.00 plus £5.00 for additional dogs from the same owner at the same address |
| Group hourly walk | £12.00 plus £6.00 for additional dogs from the same owner at the same address |
| Individual hourly walk | £15.00 plus £7.00 for additional dogs from the same owner at the same address |
| Outside normal working hours (including weekends) | £15 per half hour |
---
Home Pet Visits
For cats, kittens, rabbits, guinea pigs or other small caged animals such as hamsters, I will feed, cuddle, play, clean out litter trays and undertake reasonable home safety tasks as agreed, for instance tidying away mail, opening and closing curtains, putting out your bins, switching lights on/off.
Services are personalised and customised to your exact instructions.
Price includes up to 3 pets, please add £2.00 per additional pet.
| Service | Price |
| --- | --- |
| Home visit | £10.00 per half hour weekdays and £15.00 per half hour at weekends |
For both Dog Walking and Pet Visits there is an additional charge for Bank Holidays/Easter Sunday/Christmas Day/Boxing Day, please enquire.
---
Pet Taxi
From £10.00 per journey to take or pick up from your vets, kennels (Chelmsford area only).
Please note - I will make sure your pet is comfortable, has water etc before I leave them at home and can text you with confirmation that they are home.
Payment Details
Payment can be made via the following methods:
Cash
Bank transfer/direct debit/online payments (Please ask for bank details)
For regular users I am able to accept monthly payments by prior arrangement.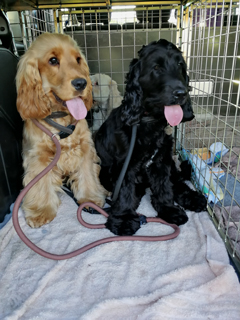 ---
Dog Chaperone
Your wedding day is one of the most important days in your life to celebrate with loved ones, and for many, dogs are both friends and family. Therefore more couples are including their dogs to celebrate the biggest day of their lives. From including your dog in your wedding photos through to ring bearer, there are many ways in which your dog can become part of your day.
The Dog Chaperone service is now an exciting new service offered by Adventure Tails, allowing your special day to be even more precious as you are accompanied by your four legged friend(s). Adventure Tails will offer a friendly yet professional service ensuring that your dog is looking perfect for the occasion. With an air conditioned specialised van you can be sure that your dog will arrive at the venue safely and punctually. During the wedding your dog will be looked after allowing you to focus on having a fantastic time with your friends and family and have those all-important special photos that you will cherish. For more information, see our leaflet.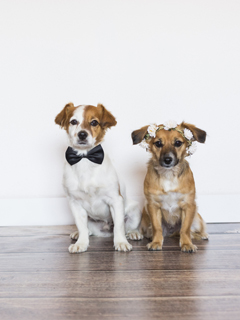 Our service includes:
An initial meeting at your home where we will spend time with you and getting to know your dog(s); going through the options available for you as we start to plan our role in your day and keeping in touch with you in the run up to your wedding.

Exercising your dog on the morning of your wedding, grooming and adding any accessories before arriving at your wedding venue.

During the wedding we will chaperone and care for your dog, paying full attention to their comfort and needs.

After your dog's role in your wedding is complete, we will then transport them back to where they are staying and ensure they are settled.

We can support with training and accessories if you are interested in including your dog as your ring bearer.
We can also offer to stay overnight both prior and on your wedding night.
Things to remember:
Check with your venue accessible areas for your dog; if you are having your dog as a ring-bearer then you will need to seek agreement from the venue or Registrar.

Advise your guests when sending out invitations that you will be including your dog(s), so that anyone with allergy's can plan ahead.

If you are planning to accessorise your dog, choose a comfortable outfit!

Think about your dog's personality, how they are with large groups of people, whether to give them a starring role or just include them in your photos.

And finally, let your photographer know!
Packages and Prices:
Standard Package
We offer a three hour service from the collection of your dog. Once collected in our pet taxi, we will style them in the outfits and accessories you have chosen and transport them to your wedding venue approximately 30 minutes before the ceremony, to allow your dog to 'meet and greet' guests as they arrive. We can also assist in any role you have in mind for the dog, including wedding pictures. We will then return your pet to your preferred place for the day before your wedding breakfast commences.
£195 plus £50 for each additional dog
Premium Package
In addition to all our services from our Standard Package, our premium package is a six hour service, includes two separate hour walks during the week to get to know your dog, and an hour's walk either at the beginning or end of your wedding day, depending on the time of your wedding, so your dog can spend more time with you on your special day with regular breaks.
£295 plus £50 for each additional dog
Bespoke Package
Dog walking prior to your wedding day to get to know your dog
Including your dog in your 'bride at home' photographs
Ring bearer
Including your dog in your line-up
Overnight stay the evening before your wedding day
Overnight stay on the evening of your wedding day
Quote to be provided after initial consultation
---
Carer's Package
Having had first-hand experience of caring for my parents, I can fully appreciate the time constraints this can have on your personal life and fitting in going to work alongside your own family commitments. However, the benefits of having a domestic animal for your family member, can relieve a lot of pressure for them and give invaluable support to them emotionally.
If you can see yourself in this category and a person you care for has a pet, or would like to have one, I can help and support you by taking the dog(s) for a walk, or provide assistance in small animal pet care, but also by acting as your representative should your pet require veterinary treatment, relieving perhaps, some of the strain from you and allowing you more quality time with your loved ones